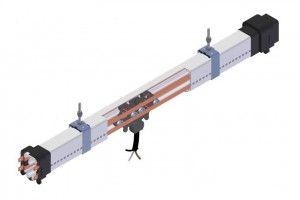 Electric Power Supply
All new cranes are fitted with safe and reliable power supply. It is also recommended in all cases of modernization of existing systems. The enclosed conductor system is an accident proof modern design with moving current collectors, used to feed cranes and hoists. In compliance with international standards, the conductor system offers the maximum protection from undesirable accidental contacts, reliable working performance and allows fast assembly.
The bars are fitted with the copper strip conductors inserted in the isolated housing and can be assembled in serial configuration. The electric joint of the conductors is realized by interconnecting copper plates locked with bolt and nut. This assembly is covered with an isolated plastic joint. In the default configuration bars are supplied as 4 m long pieces with 4 or 5 copper conductors in five different sections (from 40 A to 140 A).
Description
Safety: Due to its external isolation the enclosed conductor system is a protected power supply line. It is the first protected line manufactured with sealing strips by means of co-extrusion system.
Small dimensions: The conductor system fits into much smaller spaces than the other conventional electric feeding systems.
Expansion-shrink: Every joint of the system acts as an expansion joint absorbing the differences in length due to the thermal influence on the system. Therefore no special expansion joints are required.
Easy upgrade: Thanks to system modular architecture it is possible to expand or shrink the existing installation by adding or removing the modular tracks.
Installation: Very easy and quick: after brief installation system is ready to work
Maintenance: Only the broken segment can be replaced without moving the remaining ones
Working temperatures: from -30oC to +55oC
Protection class: IP 23