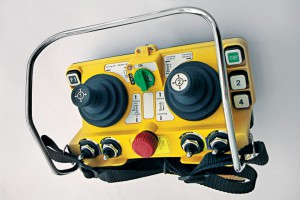 Remote Control
Crane radio control systems have been designed for easy handling of transported loads and it is capable to withstand tough operation conditions.
Description
Allows further increase of productivity,
Helps to reduce the risk of accidents,
Device resistant to the most demanding industrial environments – completely sealed and electrically shielded,
Ergonomic design and performance for enhanced handling
Technical specification
2-6 commands or fully programmable relay configuration (max. 16 relays outputs per command),
Energy efficient transmitter – low power consumption (2 AA batteries last up to 4 months),
Extra shock resistant relay designed specially for mobile devices,
Working temperatures: from -35oC to +80oC,
Casing protection class: IP 65,
Material: Fibreglass or durable nylon-fiber housing allowing extra shock resistance,
Operating range: up to 100m,
Quick and easy installation thanks to pre-wiring standard cable,
LED battery power indicator with 3 levels,
Acceleration delay time control (allowing smooth movement for multiple speeds cranes).
Safety features
Over 4.3 billions unique ID codes available,
Hamming code
Enhanced watch-dog